Schools in the United Kingdom are teaching mindfulness meditation to help students deal with stress, like test anxiety. This
article
in The Guardian says that about 3,000 students already have been taught meditation, and the number is growing.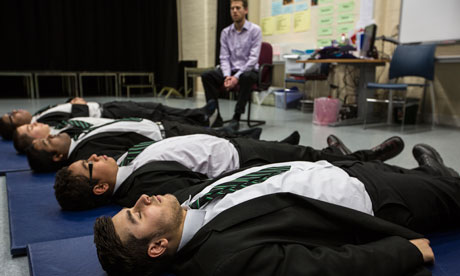 Beditation at Bethnal Green. (Guardian photo)
The program was started by two teachers, Richard Burnett and Chris Cullen, who together formed the
Mindfulness in Schools Project
in 2007. "We were both finding great benefits from mindfulness ourselves," says Cullen, "and had started introducing simple mindfulness practices to classes in the schools where we taught. The response from students was striking and inspired us to create a programme that they would find fun, accessible, and of genuine use in their lives."
The program is called ".b" (Stop, Breathe and Be), and include techniques such as the "7/11" ( counting to seven on the in-breath and 11 on the out-breath) and "beditation," or meditation done lying down -- in jackets and ties.
"Young people live in a fast-paced and confusing world," says head teacher Jenny Stephen. "The expectations that parents and society place on students are so high. To be able to step back and appreciate yourself for who you are, and be able to stop the plates spinning is a gift. Mental well-being is at the root of being able to achieve anything."